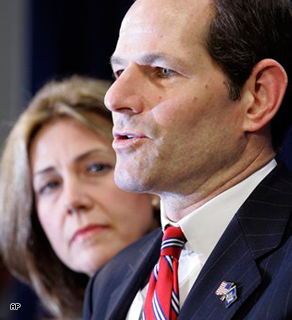 New York State Gov. Eliot Spitzer is joined by his wife Silda as he makes a statement to reporters during a news conference following a report that he was involved in a prostitution ring
It is time to do away with the wronged wife standing mute next to her man, as he publicly humiliates her and confesses to cheating on her. 
Let him stand alone and apologize. 
She is not a potted plant.  She is not an object, an accessory to his political career.  She is a flesh and blood human being who was disrespected once during her husband's cheating, and now is victimized a second time by being made to stand silently by him.
I watched Dana McGreevey speak movingly on Larry King Live last night of why she made that choice.  She loved her husband.  She was not in on all the closed door meetings leading up to the press conference.  She was asked to appear at his side, and she did, because she continued to want the best for him and for the marriage.
I get that, and my heart goes out to Dana McGreevey.  As a personal choice, I respect her decision. 
But political spouses have a vital public role too, and they know their appearances and choices matter enormously, which is why they carefully choose what causes they'll support and what they'll wear to state dinners.  
What political wives choose to do about their marriages once their husband is caught in a sex scandal is a private matter. 
But appearing right next to their husband days after he's been caught with his pants down is a public humiliation, unworthy of women in public life in 2008. 
I'm sick of watching the Stepford Wife gaze, sick of explaining to my daughter that women deserve better.
A doormat is not a role model.
– Lisa Bloom, "In Session" Anchor/360° Contributor