Editor's note: Robert Weiss is founder and Executive Director of The Sexual Recovery Institute, an outpatient Sexual Addiction and Sexual Offender treatment program in Los Angeles. We asked for his thoughts on the reckless behavior attributed to New York Gov. Eliot Spitzer.
While some healthy narcissism is required to become a public figure and live in the limelight, narcissistic people whose personalities are not tempered by some humility and humanity quickly show the ego's dark side of arrogance, secrecy, lack of empathy, sociopathy and addiction.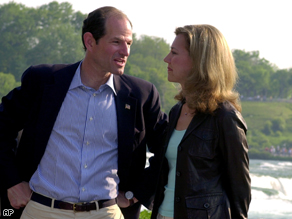 Eliot Spitzer's problems clearly go beyond his current legal-political crisis and the toll being taken on his wife, daughters and family life.  If the allegations prove true, Spitzer's entitled choice – like Bill Clinton, Larry Craig and other public figures before him – to use intense, hidden and illegal sexual liaisons is an attempt to meet some deeper unknown and unmet emotional need of his own.
And it has set him on a course to personal and professional ruin:
– Choosing a casual sexual hook-up despite being committed to long-term monogamy indicates a lack personal integrity and is guaranteed to put up an emotional wall between you and your partner.
– Choosing to frequently and continuously seek sexual hook-ups outside of your monogamous relationship, while lying about the behavior, either means that you have no respect or appreciation of your partnership OR that you have an emotional problem.
Hopefully he will be smart enough to take heed now and get the help he so clearly needs. By doing that, his downfall could also sow some seeds toward redemption if he is willing to learn from his mistakes.
But first the Governor would need to be less myopically focused on saving his job and more attentive to his own emotional and personal life.  One act of good faith on his part might be to leave his struggling wife at home in the difficult days to come and take his public lumps like a man.
– Robert Weiss LCSW, CSAT
Program note: Robert Weiss will be a guest on tonight's 360° at 10p ET