Hurt. Upset. Confused. Like a punch in the gut. That's how one of Eliot Spitzer's political allies and friends described his reaction to the news of the New York Governor's alleged link to a prostitution ring.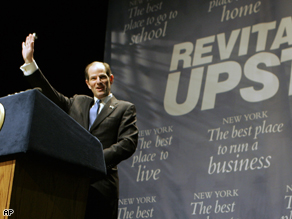 He told me he's still reeling, and still trying to make sense of it all.  Remember, Spitzer is the guy who went after Wall Street and big business for "the little guy"; he was a champion of The People.  He brought down prostitution rings.  He talked about responsibility of government, of lawmakers, of citizens; he built his campaign on that… and on ethics. 
And one man says we all should have seen this fall coming.  Charlie Gasparino, author of "King of the Club: Richard Grasso and the Survival of the New York Stock Exchange," covered Spitzer's Wall Street crusades and says the signs were always there.  Characterizing him as "holier than thou," this afternoon Gasparino also told me Spitzer had "the zealot's gleam" in his eye, and that lawmaker "always thought he was above it all."
If it was so obvious, why did everyone seem to miss the signs?
– Erica Hill, 360° Correspondent 
Program note: Tonight on 360° Erica Hill takes a closer look at Gov. Spitzer with some of the people who thought they knew him the best.