Bloggers!
It's time for 'Beat 360°' Everyday we post a picture – and you provide the caption. Our staff will get in on the action too.
Tune in every night at 10p ET to see if you are our favorite! Can you Beat 360°?
Here is today's "Beat 360°" pic of the day:
Here we have Iggy Pop, Madonna and Justin Timberlake in the press room during the 2008 Rock and Roll Hall of Fame Induction Ceremony... and if you ask me, one of these people is underdressed... how's the old saying go? 'No shirt, no shoes...no problem.' Um.... Well, who am I to comment.... I'll leave that to you!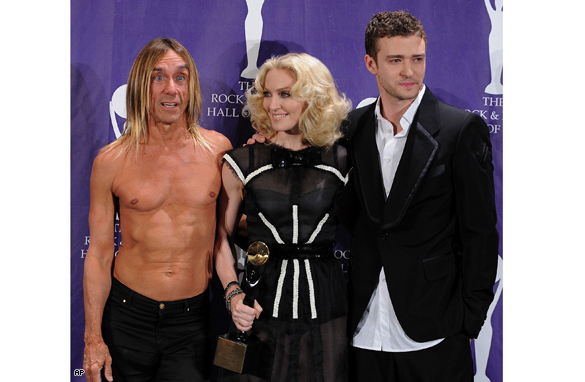 Here's one to get you started:
For the second time in his career, artist Justin Timberlake finds himself on stage during a wardrobe malfunction.

Have fun with it.
Make sure to include your name, city, state (or country) so we can post your comment.
– David Reisner, 360° Digital Producer
UPDATE: Check out last night's winner!