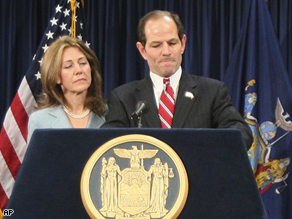 There's the sex, of course. But there are also the suspicious money transfers to a shell corporation, and then the sheriff of Wall Street himself allegedly caught speaking on a federal wiretap. 
How does a man who made himself the nation's most feared prosecutor trip himself up so easily, completely, repeatedly on the tools of his own trade?
Everyone's talking about power and sex, of course.. But Elliot Spitzer's case also raises other questions. For example, does hubris makes you sloppy, or even stupid?  Does being a straight arrow your whole life make you more likely to shoot yourself in the rear one day?
And on some level, did he want to get caught–or was he just enjoying getting away with it?
– Barclay Palmer, 360° Senior Producer