Can someone really explain to me what the real issue is over the seating of the Michigan and Florida delegation?
Here's my problem.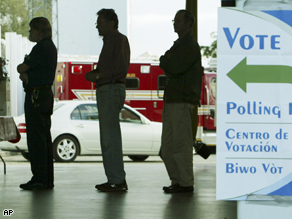 Voters line up at a polling station to vote in Florida's presidential primary in this Jan. 29, 2008
Everyone keeps saying seat the delegates. Sen. Hillary Clinton has made that a huge part of her talking points for the last month. Now Florida Sen. Bill Nelson is saying they need to be seated.
But what everyone keeps trying to skirt is that the real issue is the awarding of the delegates.
If you want the delegates from Florida and Michigan to be represented at the convention, this is simple: you split them down the middle and award them to Clinton and Obama. No need to spend $25 million. Florida and Michigan will have their say at the convention. We can all go home and be happy.
The real issue that no one wants to say is that those supporting Clinton want the delegates seated based on the votes in those primaries. The Obama folks don't want to see that happen.
So can we cut the nonsense about "seating the delegates." That IS NOT the real issue.
– Roland S. Martin, 360° Contributor
www.rolandsmartin.com