Chelsea Clinton has been in the public eye all her life.  Her father was Governor of Arkansas when she was born, and became President of the United States when she was 12.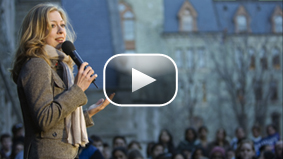 On the campaign trail with Chelsea Clinton. In her own words and taking questions at UPenn.
We all know what she looks like, but what does she sound like? And what does she have to say?  Now, at 28, Chelsea Clinton may be on the verge of becoming the first and only person in U.S. history to have two parents serve as President of the United States.  And she is trying to help make it happen by campaigning around the country on behalf of her mother.
This woman, who has largely stayed out of the public spotlight during the high profile political careers of her parents, is now speaking out, mostly at college campuses.  We were invited to spend some time with her before, during, and after an appearance at the University of Pennsylvania in Philadelphia where she took 40 minutes worth of questions.
But our coverage of her came with a most unusual caveat.
We were told WE could not ask her any questions.  You see, Chelsea Clinton is not doing any interviews with reporters.  No exceptions.  Why?  Her aides aren't specific.  They just say it's her decision.
What's unusual about this arrangement is that when she takes questions and answers from her college audiences, nothing is off limits.  Any student can ask any question.  She tackles meaty political issues.  She said her mother would end the "don't ask, don't tell" policy regarding homosexuals in the military.  She declared her mom believes that if a company wants to take a job overseas, American taxpayers should not subsidize it.  When asked her mother's feelings on the Iraq war and General Petraeus, she declared her mom listens to General Petreus, but disagrees with him.
She also answered questions about the controversies of the campaign.  Yes, Chelsea said, my mom is fighting to seat the delegates from Florida.  And when asked about the reoccurring pattern of Bushes and Clintons in the White House if her mom wins, she declared, "Well, I wish we didn't have a second Bush," to much laughter.
The hundreds of Penn students, including some Obama supporters, seemed for the most part to be impressed with her intellect and poise.  She spoke without notes and without a coat in the chill outdoors as the sun went down.  She seemed to understand the issues of the day very clearly, better than some presidential candidates I've seen on the stump over the years.  When she didn't know the answer to a question about how her mother felt about a trade agreement with Colombia, she told the student she will ask her mom and have an e-mail sent to the student with the answer.
Chelsea Clinton lives in New York City and works in the financial industry.  But she has now visited 60 college campuses and 30 states as she campaigns for her mother.  She takes pictures with students, signs autographs, and small talks with them.  And for all we know, has taken a few questions from college journalists who are in the audiences too.
But as for those of us reporters who have obviously passed the college years, there is no chance to get Chelsea on the record; at least not yet.  As we walked off the Penn campus with her, I asked one of her top aides one last time if I could talk to her.  He momentarily surprised me when he said yes; but it had to be off camera and off the record. In my line of work, that isn't particularly helpful.
– Gary Tuchman, 360° Correspondent
Program note: Watch Gary's profile of Chelsea Clinton on tonight's 360° at 10p ET and see more blogs from the 360° team at CNN.com/360