When you spend time with the U.S. Border Patrol along the U.S.-Mexican border, it is unlikely to be boring.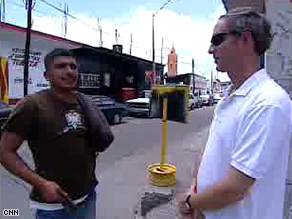 Gary Tuchman in Nuevo Laredo, Mexico
That was certainly the case for a visit we paid near the town of Laredo, Texas. No matter how you feel about the issue of illegal immigration, what we witnessed is a process that is truly broken.
We were with the border patrol as they spotted three young men swimming across the Rio Grande from Nuevo Laredo, Mexico in an attempt to escape into the United States.
We watched the men get captured and loaded into the paddy wagon. We watched them get booked into a detention facility. And within a matter of hours, they were escorted by a border patrol agent on foot; taken to a bridge across the international border, and when everyone arrived at the line separating the countries, the agent told the former captives goodbye and don't come back!
So what happens then?
In an effort to find out, we stayed with the would-be illegal immigrants on the Mexican side of the border as they discussed plans about what to do next. Their Mexican hometown is 17 hours away from Nuevo Laredo by bus and they discussed going back home for a while. But after some debate, they felt that maybe they would swim across the Rio Grande back to Texas on the VERY same day they were captured there.
They kept going back and forth on what to do and we tried to be flies on the wall to see what was going through their heads. The way they ultimately handled it caught me very much by surprise. We'll have the story tonight at 10PM.
– Gary Tuchman, 360° Correspondent