I enjoyed Harry more when he was stumbling out of a bar, vomiting and assaulting paparazzi.  At least then both he and the camera wielding parasites were the only ones who suffered the consequences of the prince's self indulgence.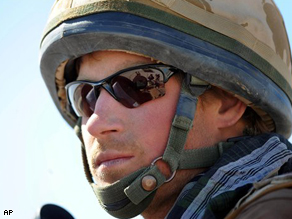 His latest bit of self indulgence is just plain asinine.  Sure, you can make the argument that going to the frontlines in Afghanistan is certainly brave and heroic.  That's if you're not a prince.  If you are, it's just plain stupid and selfish. 
Why endanger your fellow soldiers?   The media is just as guilty (including our own show).  Media outlets made a deal that if they kept his deployment secret they would be rewarded with pool footage of Harry serving his country that they could use once he had left Afghanistan.  Within minutes after the secret got out though, there it was. 
That's Harry holding a rifle!  Wow!  Watch Harry shoot a machine gun!  That's Harry calling in an airstrike!  Doesn't Harry look so rugged and handsome with his sand-encrusted hair and snug fatigues? 
Such a brave and strapping man Princess Diana's son has turned out to be.  Don't you think? 
And don't think for a second that Harry isn't in any real danger as all the correspondents so dutifully pointed out.  He really is on the front lines.  Our Michael Ware said so. 
But so are about 150,000 brave Americans who for the last several months have all but disappeared from the TV screens because viewers have grown tired of hearing about the war.  The ratings always dip when we cover it. 
Never mind the countless families who sit home praying their loved ones will return home safely after serving year long tours of duty for the second or third time. 
Never mind the extreme financial hardship these families are suffering. 
Never mind the kids who joined the reserves just as a way to pay for college but instead were sent to the battlefield. 
Never mind the "other" war, the forgotten war in Afghanistan. 
Well, forgotten at least until the hunky Prince showed up.
– Joey Gardner, Executive Administrative Assistant