They came for a better life, but a new law is driving them away, and it could put Arizona's economy in jeopardy.
I spent a few days in Phoenix talking to some illegal immigrants who say they are packing their bags because they can no longer find work.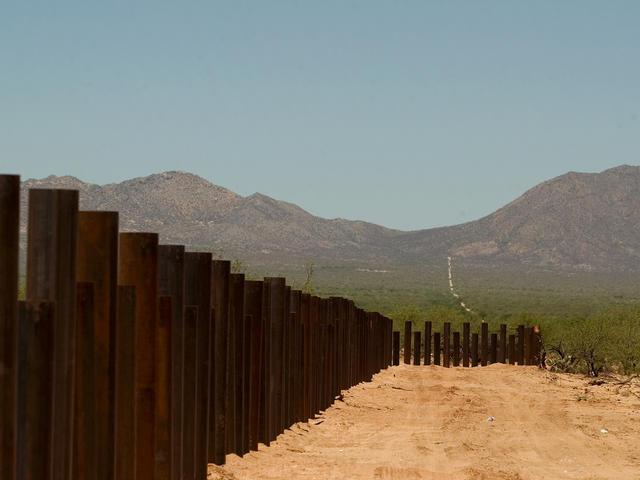 Border fence between Arizona and Mexico
Arizona has the toughest immigration law in the country making it nearly impossible for undocumented workers to keep a job. The law took effect in January and targets businesses who knowingly hire illegal immigrants. If they get caught, the business can lose its license. So now nobody wants to hire these illegals anymore and they can't earn enough money to stick around.
Juan Leon told me he came to Arizona from Mexico about 10 years ago and is taking his family back next month. He has two daughters who were born in the U.S. but now have to be pulled out of school to start over in Mexico.
Lots of parents are doing this. In fact, the Mexican consulate says they've had a rush on Mexican Birth Certificates. Already this year, more than 300 have been processed compared to just 63 in all of last year.
Dawn McLaren, a research economist at University of Arizona, told me if so many illegal immigrants leave Arizona will soon look like a ghost town.

She says the state stands to lose tens of billions of dollars in economic output and one and a half billion in tax revenue. In all, she expects the state will lose about 8 percent of its population. In fact, one school district says it has already lost more than 500 students.
McLaren also fears with such low unemployment, there aren't even enough people to fill the jobs immigrants leave vacant, nor do they want them. Both the construction and agricultural industries will likely struggle.
Is this a good thing or a bad thing? All depends on whom you ask.
Arizona State Representative Russell Pearce is a longtime advocate of immigration reform. As he puts it, "Disneyland is smart enough to know this. You want the crowds to go home, turn off the lights, shut down the rides!"
Do you think it's time Arizona and the rest of the country "shut down its rides?"  What's more important: immigration reform or a successful economy? Can we have both?
Please let me know what you think, and be sure to tune in tonight to AC360 to see my full report.
– Randi Kaye, 360° Correspondent