I'm back in Seoul, South Korea after four days in communist North Korea covering the New York Philharmonic's historic concert in Pyongyang.  What a life-changing experience.  Being in that concert hall while the orchestra played the "Star-Spangled Banner" before a mostly North Korean crowd was surreal.  There were tears in the audience and in the orchestra during the finale, "Arirang," the most famous Korean folk song on both sides of the DMZ.  "Arirang" is about the longing for reunion.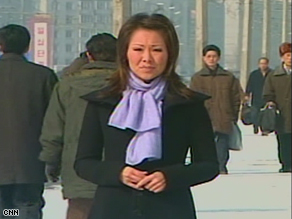 Alina Cho reporting from Pyongyang, North Korea
North Korea is truly like no other place on earth.  In the capital of Pyongyang, the roads are paved, but the streets are empty. Owning a car is a luxury.  There are department stores, but no shoppers.
It's so sad to see how people live there, without adequate food or heat. But the North Koreans I met were exceedingly warm.  The elevator attendant at the hotel told me more than once he hopes I can come back to Pyongyang.  My government guide - remember, journalists are not allowed to go anywhere without a so-called "minder" - told me that when I talked about how my own family struggled during the Korean War, he was impressed.  He said officially he couldn't comment, but as a human being, he was moved.  That touched me.
Finally, though I was there for professional reasons, I was also on a personal mission.  Two of my dad's uncles disappeared during the Korean War.  Nobody in my family knows whether they were kidnapped or defected because they were never seen again. My family believes - if they are still alive - they are in North Korea.  I had sent a letter to the North Korean government in hopes that they could track my relatives down and that I could meet them while I was there.  It was not to be, at least not this time.  The government told me there was simply not enough time to find them.  I still have hope, and I'm certain I'll be back someday in Pyongyang. 
– Alina Cho, CNN Correspondent