The Arab world gets its news from satellite television – Al Jazeera, Al Arabiya and others. Networks that have brought plain speaking to a region where government censorship is the norm, and has been for decades. Now those governments – members of the Arab League – plan to rein in these free-wheeling broadcasters.
A new charter adopted by Arab information ministers bans anything that "undermines social peace, national unity and public order."
The sweeping charter threatens to revoke an Arabic broadcaster's license if it defames politicians, national figures or religious leaders. Or if it criticizes religion. Egypt's Information Minister says the ban is needed because "some satellite channels have strayed from the correct path."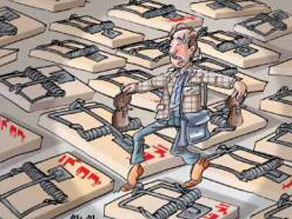 Cartoonist Naji Benaji depicts the difficult restrictions Arab journalists could encounter if a charter calling for more media censorship in the Arab world is imposed
Journalists are up in arms, saying repressive regimes want to restrict their editorial freedom. Saad Jabbar, an International Law Expert, told Al-Jazeera: "This is like going backward to the dark ages. They want to muzzle all opinions that disagree with them."
Critics say the restrictions could even extend to comedy, including hit shows that poke fun at politicians. And if the charter is applied with force, cartoons lampooning leaders may become a thing of the past. It could make life even more difficult for bloggers like Wael Abbas in Egypt. He's already spent time in jail after exposing torture by Egyptian police. Another Egyptian blogger Abdel Karim Suleiman is in prison after being convicted of defaming President Mubarak and inciting hatred of Islam.
The irony is that Saudi Arabia is a sponsor of the charter, but Saudi financiers run many of the Arab world's independent media outlets, including al Arabiya. The only countries not to sign the charter were Lebanon and Qatar, home to al Jazeera.
The charter has caused such a stir that it's even made it to the cartoon pages – this one showing an Arab journalist carefully avoiding mouse traps.
In the past, Arab League declarations and charters have withered and died – the organization has no executive power. But journalists across the region are worried – some describing it as a dark day for press freedom in the Arab world.
-Octavia Nasr, Senior Editor, Arab Affairs