My cell phone and blackberry were confiscated by the North Koreans when I entered the country, but I was given a government issued cell phone, so I was able to call in this blog to my producer in New York.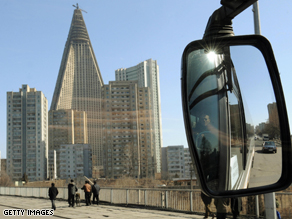 The 105 storey Ryugyong hotel which began construction in 1987 but remins incomplete due to a lack of funding in Pyongyang
I traveled with the New York Philharmonic to Pyongyang.  It's the first time an American orchestra has been invited to play in this secretive country.  The Philharmonic included both the North Korean and the U.S. national anthems in its opening concert. 
Seeing and hearing this premier American orchestra play "The Star Spangled Banner" for a North Korean audience was something else. 
The concert ended with the Korean folk song "Arirang," one of the few popular on both sides of the Demilitarized Zone (DMZ) that separates North and South Korea.  It's a love song about longing and reunion. 
That song brought back childhood memories for violinist Michelle Kim, one of eight Korean-Americans in the orchestra tonight.  Michelle's parents were born in the North but fled south during the Korean War, never to see their homeland again. 
Michelle says she has a sense of awe visiting the country where her parents were born. She calls herself the "eyes and ears" for her parents, since it's likely they will never have a chance to go back to the North.
Michelle also expressed sadness at being in North Korea because the people are, in her words "so bright" yet the country is still divided.  I'll have more on her story on 360° tonight.
-Alina Cho, 360° Correspondent
Check out more CNN reports on this historic trip to North Korea