A day after the New York Philharmonic's triumphant debut in Pyongyang, I was invited for tea and a chat with North Korea's chief nuclear negiotiator at the Foreign Ministry. It was an exclusive meeting, but off camera, and Vice Foreign Minister Kim Kye Gwan was evidently basking in the aftermath of the orchestra's successful trip.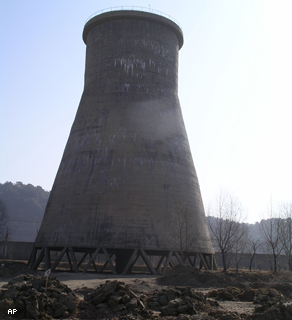 The cooling tower of a 5 Megawatt nuclear reactor is seen at the Yongbyon Nuclear Center in North Korea
Relaxed and welcoming, he called it "wonderful and very successful art-diplomacy."  I was stunned when he laughed and said the performance of the US national anthem anywhere in North Korea, much less in a full public outing in an unprecedented live brodcast to the nation, "was a political breakthrough" that took "great political courage...the courage of both nations." Mr. Kim reminded me the U.S. and North Korea are afterall still technically at war; only an armistice was signed to end the Korean conflict in 1953.
A day before the concert I had been allowed exclusive access to their Yongbyon nuclear facility, where with U.S. technical expertise, they shut down the plant last summer, and are disabling it. He told me that it is 90% done, and that despite slowing down the process while they wait for the U.S. to fulfill its promises in return, such as lifting sanctions, they remain committed to the nuclear talks and disarmament process.
As for the Philharmonic's performance, the ovations, the applause and the waving, he seemed as suprised as everyone else who watched at the enthusistic reaction of the North Korean audience and the American musicians, telling me the visit would contribute to better understanding between the two nations. As I left after about an hour of conversation through an interpreter, Minister Kim kye Gwan noted "music can be communicted between people without any interpreters."
– Christiane Amanpour, Chief International Correspondent