Fifteen-year-old Lawrence "Larry" King recently told his classmates at EO Green Junior High in Oxnard, California that he was gay.  He changed his dress; he now wore earrings, makeup and high-heeled boots.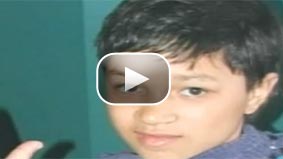 Watch Dan Simon's AC360° report about the junior high school student who was killed after admitting he was gay.
A few weeks later he was dead. 
What happened? The Ventura County District Attorney says 14-year-old Brandon McInerny shot and killed him, and calls it a hate crime. 
Some students say King had a crush on McInerny. Others dismiss those reports as rumors.  But a police source tells CNN they are looking into the possibility that McInerny felt humiliated by the advances and just snapped.  At this point, neither prosecutors nor defense lawyers are talking about a possible motive. 
The shooting happened during an 8th grade English class.  The teacher had brought the students to the school's computer lab.  McInerny allegedly fired two shots in the back of King's head.  Doctors kept King on life support for a couple days so his organs could be donated.
King lived in a state foster home for neglected and abused children.  Officials there say he was just beginning to gain some acceptance before his life was cut short. 
The entrance to the junior high school is now filled with flowers, cards and candles.  Expressions of love and friendship that King never seemed to get when he was alive.
-Dan Simon, 360° Correspondent