I'm in the Beijing International airport right now, waiting to board my flight with the New York Philharmonic to Pyongyang.  This is the last chance I have to send an email or make a phone call before I board my flight because the North Koreans will confiscate all of our phones and blackberries once we arrive in the country. 
This is the first time an American orchestra has ever been invited to play in the North. The musicians are excited and understandably a little nervous, not only about performing well musically, but also about being pseudo-ambassadors for America.  They want to make a good impression on the North Korean people, who have largely been taught that Americans are the enemy.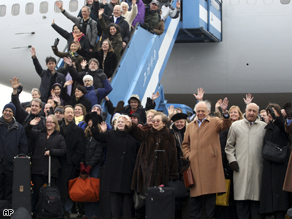 For one orchestra member in particular this trip is personal.  Violinist Michelle Kim's parents are originally from North Korea but because of persecution, they fled to the south during the Korean War.  Michelle's father has horrible memories from the war but he's proud that his daughter can travel to North Korea and see the land where he was born.
I ran into Michelle at our hotel in Beijing. She was in good spirits, excited to go into North Korea.  She had all these CDs, DVDs and sheet music to give as gifts to the North Korean musicians. In her words, she's trying to "give them the world" since they have no access to anything outside the country.
My feelings right now might be similar to Michelle's, since my parents also suffered during the Korean War.  The story of her family and my family are representative of thousands and thousands of Korean families, many of them ripped apart during the war.  Two of my dad's uncles disappeared during the war and we believe they ended up living in North Korea, though we don't know if that was by choice or if they were kidnapped.  I'll have more on both Michelle's story and my own tomorrow night on AC360.
-Alina Cho, 360° Correspondent