I have blogged about Fidel Castro in the past, most recently about his illness in July of 2006. Reporting on leaders like Castro is difficult because of the extraordinary lack of information coming from Cuba. Reporting on Castro's health took the combined efforts of our Havana bureau and Madrid bureau, including an interview with at least one doctor who examined Castro. In the end, CNN viewers probably knew more about Castro's health than the residents of Cuba. (Watch Video)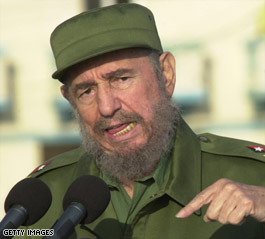 We now know Castro had at least three operations in the summer of 2006. He had diverticulitis, an inflammation of the large intestine, and that had caused bleeding in his abdominal cavity. After his first operation to remove the bleeding portion of his large intestine, he required a second operation because of complications from the first. A third operation was also required to reconstruct his intestine and open up his bile duct. Big operations for anyone – especially an 80-year-old.
He survived all of that, and there was no confirmation of cancer, which was widely initially reported. Today he resigns and his brother Raul will take over. Raul is 76, and by reports in good health. But who really knows? Reagan was 77 when he left office, the United States oldest president.
When I last blogged about it, we posted hundreds of comments. Many thought the personal health of someone, no matter how public a figure, should remain private. Others thought public citizens have the right to know about their leaders. What do you think? Does it make a difference if we can bring you such specific details about the health of Fidel Castro or his brother Raul?

-Dr. Sanjay Gupta, Chief Medical Correspondent

Editor's Note: Medical news is a popular but sensitive subject rooted in science. We receive many comments on this blog each day; not all are posted. Our hope is that much will be learned from the sharing of useful information and personal experiences based on the medical and health topics of the blog. We encourage you to focus your comments on those medical and health topics and we appreciate your input. Thank you for your participation.