We're thrilled to have Erica Hill join 360° as a full-time Anchor/Correspondent. She'll make her debut next week.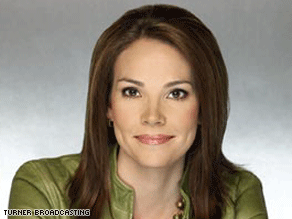 She has closed up shop in Atlanta and is making the big move to New York.
This is a big, strange, and sometimes scary city. We're thinking of ways to ease the transition for Erica, so she's comfortable in her new digs and and not too freaked out about relocating to the Big Apple. That's why we're presenting her with goodies essential to every true New Yorker.
Think of it as a money-saver swag bag. The treats include bagels, an "I Love NY" t-shirt, a mass transit MetroCard and some films that showcase the city: West Side Story, Annie Hall, Taxi Driver, Saturday Night Fever, and Madagascar, to name a few. (Rest-assured, Cloverfield will not be on the list.)
We're doing our part to make Erica feel welcome. And we'd like to hear from you.
Give Erica some reasons on why she'll love NYC, and maybe offer up some tips on how she can make the most of the city.
Even if you've never been here, I'm sure you have some great ideas.
– Gabe Falcon, 360° Writer