The multimillionaire movie star paid no taxes – none at all, didn't even file returns – from 1999-2004. Now on trial for tax fraud, his lawyers concede he must pay millions of dollars in back taxes, penalties and fees, but they claim no fraud took place because he was open in his refusal to pay.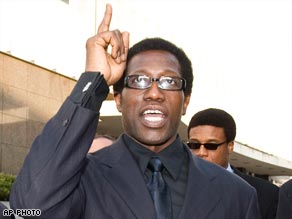 Wesley Snipes makes a point.
Huh?
The jury is out as I write. He could face up to 16 years in prison if convicted, and his lawyers say even if acquitted, he'll have to work for the next 20 years to repay his civil debt to the IRS. Read about the trial
Reminds me of Michael Vick. A man at the top of his game, who had it all, and who threw it all away for illegal behavior that is incomprehensible to most of us. He risked losing his high-flying NFL career over . . . dog fighting?
Wesley Snipes. Riding high as a worldwide film star, who risked his reputation, wealth and freedom to . . . join a merry band of tax avoiders? Guys who claim the IRS has no jurisdiction over wages earned in the U.S.?
Huh?
– Lisa Bloom, 'In Session' anchor/360° contributor