Good morning Bloggers!!
Notice something new today?  No we didn't get a haircut or a new shirt; We took the blog to the next level. The new AC360Blog launched this morning and we hope you like it. As one of our senior producers said, "It's like we've given birth…"  (Well I hope it's less painful than that… but just as rewarding!)
The 360Blog promises to be more interactive and more custom fitted to your daily blog needs. More pictures, more video… we haven't exactly figure out how it can make you coffee or do your laundry yet (thanks for promising that on-air Anderson… no pressure or anything)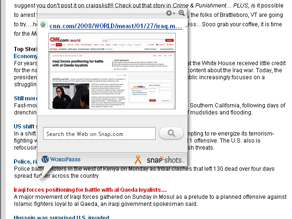 Screen shot of the 360blog's new 'link preview'
So what's new? Check out 'Morning Buzz' for example – hold your mouse over a link and you get a preview of where we're sending you (What?! You don't trust us to send you somewhere good?).
Also, is there a certain topic, correspondent, or commentator you like? You can create a 'customized blog' by viewing only those specific topics!  At the bottom of the article check out the 'filed under' option –click on any one of those links – and boom! A customized blog!
So let's keep the dialogue going and let the blogs begin!

– David Reisner, 360° Digital Producer