Program Note: In the next installment of CNN's Black in America series, Soledad O'Brien examines the successes, struggles and complex issues faced by black men, women and families, 40 years after the death of the Dr. Martin Luther King Jr. Watch encore presentation Saturday & Sunday, 8 p.m. ET

We devote several days on the blog to smart insight and commentary related to the special.
_____________________________________________________

We devote several days on the blog to smart insight and commentary related to the special.
_____________________________________________________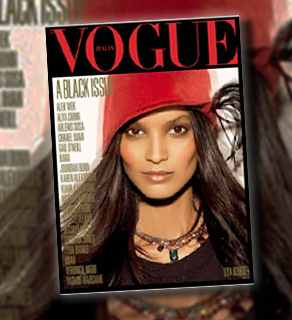 Lola Ogunnaike | BIO
Pop Culture correspondent, CNN's American Morning
I have never wanted to learn to speak Italian until this very moment. I just finished flipping through the latest issue of Italian Vogue and I've been rendered speechless (which seldom happens).
This issue celebrates the black model and all the big gals of the past and the present are on full display—everyone from Iman to Chanel Iman.
Pioneers like Alva Chinn, 80's darlings like Veronica Webb and Karen Alexander and newbies like Jourdan Dunn. They come from as far as the Sudan (Alex Wek) and as near as California (Tyra).
Some, like the infamous Naomi Campbell, don't even look human, they look utterly other worldly. With all the cell phone throwing and temper tantrums, it's easy to forget that Campbell is one of the best to have ever graced the runway. This magazine more than reminds you. More importantly, it reminds you that black women come in all shades, their hair in all textures and they are not to be forgotten.