Program Note: In the next installment of CNN's Black in America series, Soledad O'Brien examines the successes, struggles and complex issues faced by black men, women and families, 40 years after the death of the Dr. Martin Luther King Jr. Watch encore presentation Saturday & Sunday, 8 p.m. ET

We devote several days on the blog to smart insight and commentary related to the special.
_____________________________________________________
Editor's Note: Devah Pager is Associate Professor of Sociology and Faculty Associate of the Office of Population Research at Princeton University.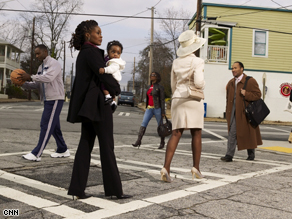 Devah Pager
Princeton University
Is racial discrimination a thing of the past?
Debates about the relevance of discrimination in today's society have been difficult to resolve, in part because of the challenges in identifying, measuring, and documenting its presence or absence in all but extreme cases. Discrimination is rarely something that can be observed explicitly.
To address these issues, I recently conducted a series of experiments investigating employment discrimination. In these experiments, which took place in Milwaukee and New York City, I hired young men to pose as job applicants, assigning them resumes with equal levels of education and experience, and sending them to apply for real entry-level job openings all over the city.
Team members also alternated presenting information about a fictitious criminal record (a drug felony), which they "fessed up to" on the application form. During nearly a year of fieldwork, teams of testers audited hundreds of employers, applying for a wide range of entry level jobs such as waiters, sales assistants, laborers, warehouse workers, couriers, and customer service representatives.
The results of these studies were startling. FULL POST