Anyone who came to CNN heard pretty quickly about "Bev."
Beverly Broadman joined CNN a month before the network launched 28 years ago. And when I got to know her, she was CNN's national desk dayside manager.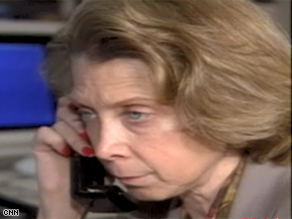 Beverly Broadman, a CNN original, died Thursday after battling cancer. She was 60.
Bev was a petite woman, stooped, with hands knarled by early and painful arthritis. But for those of us in CNN's bureaus, you wouldn't know it.
The expression is a cliche, but Bev was a towering figure. Her job was to make good journalism happen across the nation. And she was amazing at it. Bev cajoled, she probed, she challenged, she kept us hopping, she kept us motivated, and she kept us honest.
But probably the most amazing thing about the way Bev did all that was that she did it with heart... a huge, huge heart in a tiny woman...