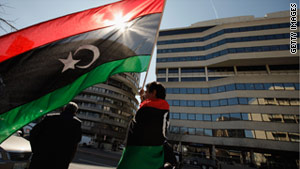 Libyan demonstrators in Washington on Tuesday display the pre-Gadhafi Libyan flag.
Jill Dougherty and Elise Labott
CNN
Washington (CNN) - The Obama administration is considering whether it should cut diplomatic ties with Libya, a senior U.S. official told CNN on Tuesday.
"Whether to maintain relations or sever them is under review," the official said.
Cutting ties would send a strong message that the United States no longer considers the government of Moammar Gadhafi to be legitimate.
President Barack Obama and Secretary of State Hillary Clinton both said in recent days that Gadhafi has lost his legitimacy to rule the Libyan people and should leave power.
According to the senior U.S. official, the last high-level communication with Gadhafi's government was last week, when Clinton spoke with Libyan Foreign Minister Musa Kusa.
However, the official also said there was "still some utility" in reserving channels of communication with the Gadhafi government, noting that some American citizens remain in Libya and there could be a need to talk to Libyan officials about humanitarian activity.
"There may be instructions one has to give to Libya depending on what happens going forward," the official said.
The official added that the United States still considered Ali Aujali to be the legitimate Libyan ambassador to the United States, even after the Gadhafi regime notified Washington that Aujali no longer represented its interests.
Last week, Aujali said he no longer represented the regime because of Gadhafi's brutal repression against the Libyan people. But he said he still represented the Libyan people and told the State Department he would remain a liaison to the Libyan opposition.