Ready for today's Beat 360°? Everyday we post a picture you provide the caption and our staff will join in too. Tune in tonight at 10pm to see if you are our favorite! Here is the 'Beat 360°' pic: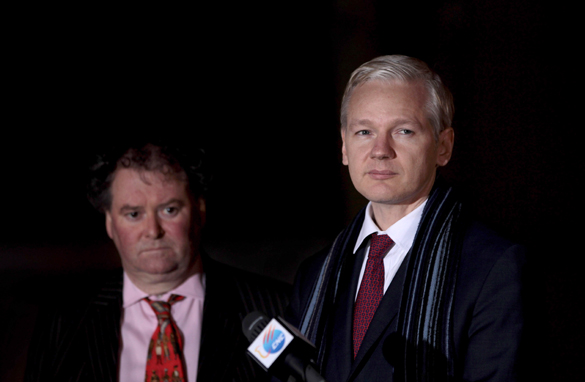 Mark Stephens, left, the lawyer representing WikiLeaks founder Julian Assange, and Julian Assange hiimself speak to the press before leaving Belmarsh Magistrates Court on February 8, 2011 in London, England. (Photo credit: Dan Kitwood/Getty Images)
Have fun with it. We're looking forward to your captions! Make sure to include your name, city, state (or country) so we can post your comment.
Update: Beat 360° Winners:
Staff
Chuck Hadad
"In what's sure to be the highest-grossing buddy comedy of all time, Julian Assange teams up with Susan Boyle."

Viewer
Kristie Stauff Pittsburgh, PA
Mark Stephens & Julian Assange: "We get that all the time but really we are not Rush Limbaugh & Anderson Cooper."
___________________________________________________________________________