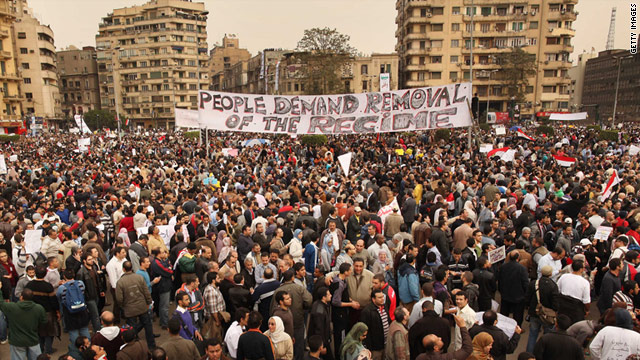 Protesters rally in Cairo's Tahrir Square on Tuesday. Tens of thousands gathered to demand that President Mubarak step down.
Maureen Miller
AC360° Writer
After a massive protest today in Cairo, Egypt President Hosni Mubarak announced to his country that he won't seek another term. The protesters aren't happy with that decision. They want him gone now.
"My first priority is to retain the stability and security of the nation, in order for a peaceful transition to power in an environment that will protect Egypt and Egyptians and will allow for the transition of power for whoever is selected by the people for the forthcoming elections," Mubarak said in his taped announcement aired just a couple hours ago.
Those elections are scheduled for September.
President Obama had a different message tonight for Pres. Mubarak when they spoke on the phone.
"What is clear and what I indicated tonight to President Mubarak is my belief that an orderly transition must be meaningful, must be peaceful and it must begin now, " said Pres. Obama.
The key words: must begin now.
Anderson will talk that over with our panel of experts. He'll be reporting live from Cairo tonight along with CNN's Ben Wedeman and Ivan Watson. We'll also check in with Nic Robertson who is in Alexandria, Egypt, where there was a clash between anti and pro-Mubarak followers.
Our other big story tonight is the massive storm that's brought ice, snow and brutal winds to areas from Texas to the Great Lakes and is taking aim at the Northeast. More than 30 states and up to 100 million people will be in the dangerous weather system. There are blizzard conditions in Chicago, where up to two feet of snow could fall. CNN's Rob Marciano joins us from there with the latest.
Join us for these stories and much more starting at 10 p.m. ET on CNN. See you then.