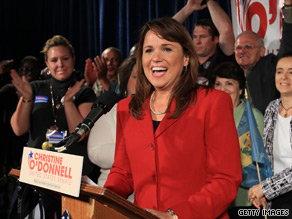 Christine O'Donnell's campaign said it raised $850,000 in the first 24 hours after her Delaware GOP primary victory.'
Kevin Bohn
CNN Senior Producer
Washington (CNN) – Christine O'Donnell's campaign tells CNN it raised $850,000 in the first 24 hours after her upset victory in the Delaware Republican senatorial primary.
Spokeswoman Michelle Lauren says the campaign's website crashed Tuesday night due to the large amount of traffic generated in the wake of her surprise win. The site went back up Thursday morning, she says.
Republican establishment figures continue to reach out to her. Republican National Committee Chairman Michael Steele phoned O'Donnell Thursday. Officials with O'Donnell would not characterize the call.