Parija Kavilanz
Senior writer, CNNMoney.com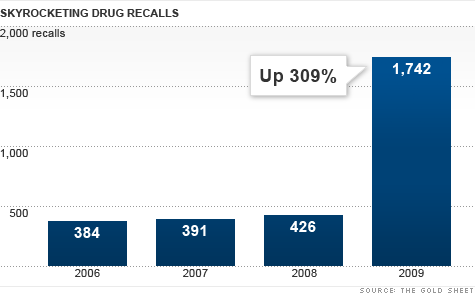 Drug recalls hit a new record in 2009, with one company accounting for more than 1,000 of them. Source: The Gold Sheet
Recalls of prescription and over the counter drugs are surging, raising questions about the quality of drug manufacturing in the United States.
The Food and Drug Administration reported more than 1,742 recalls last year, skyrocketing from 426 in 2008, according to the Gold Sheet, a trade publication on drug quality that analyzes FDA data.
One company, drug repackager Advantage Dose, accounted for more than 1,000 of those recalls. Even excluding Advantage Dose, which has shut down, recalls jumped 50% last year.