Amitai Etzioni
Special to CNN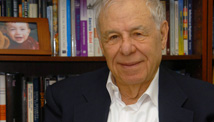 Amitai Etzioni: Expectations are sky-high for popular Gen. Petraeus in Afghanistan
Many hope that Gen. David Petraeus will save the day in Afghanistan, following what they see as his great success in Iraq. His appointment has been met with nearly unqualified praise.
Rep. John Kline of Minnesota said he was confident that Petraeus "has proven his leadership in Iraq and is extremely well-qualified for this job." Sen. John McCain, speaking for himself as well as Sens. Lindsey Graham and Joe Lieberman, said, "We think there is no one more qualified or more outstanding a leader than Gen. Petraeus to achieve a successful conclusion of the Afghan conflict."
When you meet him, it is easy to see why he is so popular. He is well-educated, West Point and Princeton doctorates; politically savvy, no nasty quotes in Rolling Stone or anywhere else; and very personable.
So it distresses me, but I feel feel honor-bound to point out that the Iraq he left behind is in shambles; that he is not applying what worked in Iraq to Afghanistan; and that the challenges there are much more daunting than in Iraq.