CNN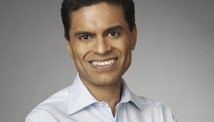 Zakaria says Petraeus showed in Iraq the importance of working with civilians to carry out strategy
President Obama's decision to replace Gen. Stanley McChrystal with Gen. David Petraeus is "a masterstroke," says analyst Fareed Zakaria.
The president announced Wednesday that he had accepted McChrystal's resignation after the publication of a Rolling Stone article that contained disparaging remarks by the general and his staff about officials in the Obama administration. Obama chose Petraeus, the head of the U.S. Central Command, to replace McChrystal.
Zakaria said the controversy over McChrystal's comments raised questions about how effectively he was doing his job, and Petraeus is superbly equipped for the role of leading the NATO force in Afghanistan.