CNN Wire Staff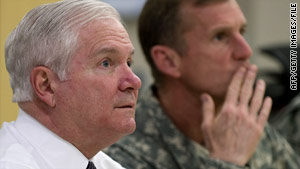 Defense Secretary Robert Gates, left, and Gen. Stanley McChrystal confer in Kabul, Afghanistan, in March.
Defense Secretary Robert Gates backed keeping Gen. Stanley McChrystal on the job because he was vital to the war effort in Afghanistan, but Gates was overruled, a senior Pentagon official told CNN's Barbara Starr.
The official has direct knowledge of the events but declined to be identified because of the internal administration discussions.
President Barack Obama relieved McChrystal of command of the Afghan war on Wednesday, a day after Rolling Stone published critical comments about top White House officials by members of McChrystal's staff.