Tom Foreman | BIO
AC360° Correspondent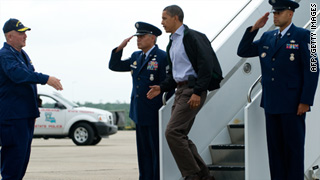 Foreman: I think getting ahead of a problem when you are behind begins with writing off the damage that has already been inflicted; admitting it, and stepping up into the fray with the proper amount of humility and willingness to make amends
Reporter's Note: President Obama probably wishes he'd never heard the letters "BP" now. Of course, he may wish he'd never heard of my letters either.
Dear Mr. President,
So the Blackhawks won their most recent game and are looking remarkably good, but I must say the score does not appear so promising for you. No doubt you've seen this latest ABC News/Washington Post poll that says more Americans now give a negative rating to the federal response in the Gulf oil spill, than gave such a thumbs down to the Katrina response.
Well, that's saying something. Not sure what, but something.
I'll grant that it's a bit of a goofy comparison. Sort of a "Would you rather be hit by a truck or a bus?" question. And I further add that I suspect a lot of folks have forgotten just how maddening the Katrina response was at the time; all those houses underwater, the broken levees, the days and days of refugees trapped in the Superdome of all places.
Heck of a job, Brownie.
But all that said, it should be telling you something that people are reacting this way, and I don't think you have yet figured out a way to repair the damage, if it can be repaired at all. I suppose that is the big question. When President Bush's team failed to get ahead of the Katrina issues, they wound up chasing solutions from behind; and with the problems growing every day, they simply never really managed to establish enough of a lead… even when they got serious about it…to reverse the trend toward public contempt.
This sort of looks the same. By the time it was clear that Admiral Thad Allen was your point man, I suspect a lot of voters wanted a more dynamic player in that position. By the time you went to the Gulf, it was no longer enough to walk around in boots and a white shirt. By the time it appeared that your administration was really taking the matter as seriously as other Americans are, it seemed as if you were doing it for political reasons. And by the time you started all the tough talk, which you are tossing around now like circus peanuts, I think… and please take no offense, you know I always try to be constructive… it just was too little, way too late for many folks.
So how do you fix it? I think getting ahead of a problem when you are behind begins with writing off the damage that has already been inflicted; admitting it, and stepping up into the fray with the proper amount of humility and willingness to make amends. I know that presidents almost never want to say they did anything wrong. But I think people are very understanding when they hear such talk; even if it takes a while. Right now, a frank admission of what went wrong not only with BP but with your team too, and a clear outline of what you are going to do to solve the problem facing us, could be a positive step toward rebuilding public faith in the federal government's ability to do something worthwhile about the disaster in the Gulf.
Btw, I'm flying there again this morning. If you come down, give me a call and we'll have a visit.
Regards,
Tom