Tom Foreman | BIO
AC360° Correspondent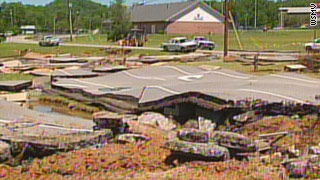 The flooding in Tennessee is absolutely awful, and we owe the people there more attention
Reporter's Note: The President is facing a variety of urgent matters at the moment, from the Gulf oil spill to the attempted terror strike. But I'm using my daily letter to the White House to point out one more.
Dear Mr. President,
Sometimes big news stories just get steamrolled by even bigger stories. It's not right and it's not fair, and it's happening to Tennessee right now. The flooding is absolutely awful, and we owe the people there more attention. In between doing research and stories on the attempted terror attack in New York, and the oil spill in the Gulf, I looked at some of the pictures from Nashville this afternoon and I could not believe my eyes.
I don't know how much time you have spent there, but it really is a lovely state full of very nice folks, and Nashville is a blast. I went there a few years ago with one of my daughters on our way to Space Camp in Alabama and we had so much fun. The Country Music Hall of Fame (now surrounded by water,) Hatch Show Print (ditto,) Ryman auditorium (uh…that too,) and of course the Grand Ole Opry (which is just plain under water.)
We stayed at the mind-blowingly huge Gaylord resort right next to the Opry, and had seats ten or twelve rows back from the stage. Porter Waggoner was still alive and it was a thrill to see him, along with a mesmerizing parade of other terrifically talented musicians. Song after song, act after act; we enjoyed ourselves immensely.
We ate barbeque, rode around Vanderbilt University, spent a fascinating afternoon at the Country Music Hall of Fame, and chatted with a songwriter who appeared there to explain his work to a hundred of so of us in one of the theaters. Oddly enough, I was talking to my wife a couple of weeks ago about taking the whole family for a visit.
So here is the thing: We'll still go. The people of Tennessee deserve all the help the rest of the nation can give them right now, but they are also tough, proud people who will get back onto their feet whether that help comes or not. And when they do, I hope a lot of us go to see them; to patronize their hotels, their restaurants, their shops, and their shows. Heck, I've always wanted a Gibson guitar. When their factory towels off, I'll just go get one in person.
It's a measure of how strong Tennesseans are that the Grand Ole Opry has already made arrangements to continue its performances in some of the unflooded venues in town, even with their theater, many instruments, sheet music, and that circle of the original wooden floor where Hank Williams and so many others performed, soaking under water. Good for them. The show must go on. And when the clouds part over Tennessee, it will be good to see regular life for regular folks go on too.
Don't call me today. Call the governor out there and see what he needs!
Regards,
Tom
Follow Tom on Twitter @tomforemancnn.
Find more of the Foreman Letters here.

To find out how you can make a difference and help provide relief for the flood victims in Tennessee, visit our Impact Your World page.