CNN Wire Staff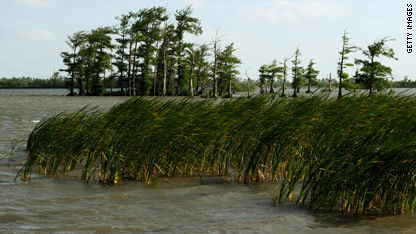 Officials monitoring spill have not yet confirmed reports that oil reached land early Friday
Officials anticipate Venice and Port Fourchon, Louisiana, will be the first places affected Friday when the massive oil spill caused by a rig explosion reaches shore, said a spokesman for the oil company BP.
Officials monitoring the oil spill in the Gulf of Mexico have not yet confirmed reports that oil reached land early Friday.
The Coast Guard was conducting a flyover Friday morning to see if oil had reached Louisiana's coastline as federal, state and local officials scrambled to avert a natural disaster threatening to surpass the Exxon Valdez disaster 20 years ago in Alaska.