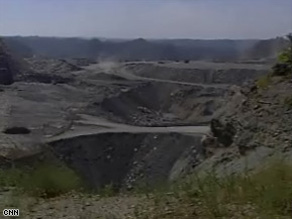 West Virginia: the site of a mine explosion today, leaving 20 unaccounted for.
CNN
An explosion occurred Monday in a West Virginia mine, leaving more than 20 people unaccounted for, said Jimmy Gianato, director of homeland security for the state.
West Virginia's state mine director reported that six coal miners were dead and 21 were missing after the explosion in Raleigh County, according to CNN affiliate WCHS.
The explosion happened at about 4:30 p.m. at Massey Energy's Performance Coal Co. mine in Whitesville, 30 miles south of Charleston, it said.