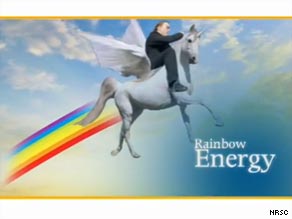 Republicans are praising President Obama on April Fools Day.
Alexander Mooney
CNN
National Republicans praised President Obama Thursday and declared that he has "kept all his promises" and is "truly the greatest president ever."
No, this is not an episode of "The Twilight Zone." It's an April Fools Day joke from the National Republican Senatorial Committee.
In a new Web video, the GOP organization tasked with regaining control of the Senate this November, cheers Obama for solving global warming "by replacing cars with low-emission unicorns" and achieving an unemployment rate of "negative 39 percent," among other "accomplishments."