Reporter's Note: President Obama has not lost electricity, communications, or transportation during the great DC blizzard. And he calls himself a man of the people…sheesh. I have half a mind not to write my daily letter to the White House. But it is precisely my "half mind" that compels me to do so…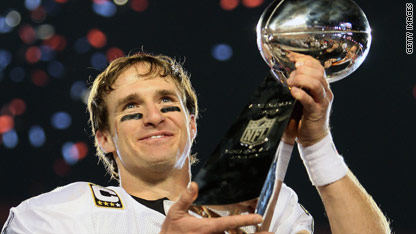 Tom Foreman | BIO
AC360° Correspondent
Dear Mr. President,
With some luck, my elder daughter and I will finally climb aboard a plane back to DC today, after coming to Indiana last Wednesday and being stuck here ever since we first thought of heading home. We may not feel so lucky even if we make it. At last report my wife says the house is still without power and ice cold now. Even the dog is complaining. Looks like we lost a tree or two as well. So once I get there I assume I will be cleaning up, checking for leaks, and of course shoveling, shoveling, shoveling, especially since we expect more snow this week.
That said the daughter and I had an excellent Super Bowl Sunday. We slept late then took a drive through Indianapolis, and after enjoying a lunchtime repast completely surrounded by Colts fans in their paraphernalia, we decided it was time to fight back. We went into a Walmart, scored some snacks, black and gold streamers, poster board and markers. Initially we just wanted to have a little Saints Super Bowl party back at our hotel room while we watched, but then we thought, "Why not spread the love?"
We sat in the parking lot and quickly drew up some snappy "Go Saints!" and "Who Dat?" and "Feel the Brees!" signs which we taped into the windows of our rental car. Then we spent the rest of the afternoon riding around listening to Michael Jackson and Cheap Trick while we exchanged good-natured traveling jests with other drivers. Some seem puzzled, because frankly we were the one and only car we saw in our entire stay here that had any insignia for the Saints. A few were angry, or at least seemed that way; probably the Indiana plates on our rental car added to their sense of betrayal. But most people laughed and waved and pointed to their own Colts shirts and flags, and we laughed and waved back. These Indiana folks are really very nice people. All in all it was a blast; a memory my daughter and I will no doubt share for years. Our crowning moment was when I pulled up outside the Colts' stadium and she posed next to the car with the big "Who Dat?" glowing next to her with the stadium and an enormous picture of Peyton Manning in the background. Then we cast one last desperate voodoo spell and headed back to watch.
I cannot describe how it felt after all these years, after all the heartbreaking losses, the painful fumbles, the agonizing seasons, to see the Saints play that way. I know it is just a football game, and the Colts are a great team, and any other day they might have won. I wish only the best for their fans who have been so welcoming to us this week. But for this game on this night, it really felt like magic.
New Orleans is a city that I love so deeply, and it has been through so much; it is impossible to state what this means, but I'll try. As one of the Saints said after the game (or maybe the team owner) it was a message to the world that New Orleans is back; business is recovering, schools are improving, and the quality of life is getting better every day. It was also a reminder to all of us, that every dog has his day. Hard times come to us all, and usually more often than good ones; but perseverance, hard work, dedication, and patience bring better days.
Like I said, my words are failing me now. Suffice to say that I am deliriously happy and have been trading phone calls, text messages, and e-mails with all my friends in the Who Dat nation. I'm still being kept out of my home by a blizzard, but at least now I know the reason: Hell really did freeze over.
Go Saints. Go New Orleans. Super Bowl Champions. I never thought I'd see the day; but I always had faith that I might.
Regards,
Tom
Follow Tom on Twitter @tomforemancnn.