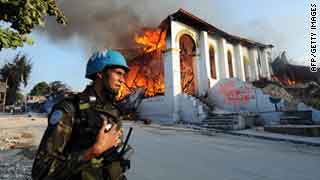 Eliza Browning
AC360° Associate Producer
One week ago today, the 7.0-magnitude earthquake struck Haiti. The massive effort to distribute aid continues, even amid reports of looting and questions about who is in charge.
Frustrations have mounted as hundreds of Haitians broke into a damaged store in downtown Port-au-Prince yesterday, stripping it clean and then moving on to another store nearby.
I can't stop thinking about one of John Steinbeck's poignant lines – the "line between hunger and anger is a thin line."
The Haitian police – made up of about 9,000 troops – faces a growing challenge in trying to uphold security and peace. The U.N. has 9,000 peacekeepers in Haiti and the Security Council is expected to approve a request for 3,500 additional troops today. Right now, the U.S. has 1,400 military forces in the country and that number is expected to more or less quadruple in the near future. This morning, a large number of U.S. marines arrived at the presidential palace this morning.
Meanwhile, volunteers and doctors are still awaiting permission to enter Haiti and there seems to be considerable confusion involving communication, distribution and accountability. So who is in charge? Who is making decisions about how and when people can enter the country?
A plane carrying dozens of Haitian orphans just landed in Pittsburgh from Port-au-Prince. They were in the process of adoption and will be placed with their American families. Pennsylvania Governor Ed Rendell is on the flight along with a crew of doctors and congressmen. So how did Rendell's plane get into Haiti to pick up the children, but doctors and volunteers still can't get into the country to help? We're digging deeper tonight.
The search for survivors still continues. Rescuers have pulled more than 75 people from under the rubble. No overall death toll has been declared, but estimates range from anywhere between 100,000 to 200,000.
We'll be live in Haiti tonight where we are reporting on lines of authority and how, exactly, the aid is getting to the people. We also talk to a family who will be united with their adopted child but this time, for the first time, at home in the United States.  Anderson is visiting a school where hundreds of children were buried and he's filing a reporter's notebook about covering the story over the past week.
But we're also paying close attention to the Massachusetts Senate vote. People of Massachusetts go to the polls today for a special election to replace Democratic Senator Ted Kennedy. But there is more at stake here: this election could determine the fate of Democrats' health care plans.
Losing the seat would strip Democrats of their 60-seat Senate majority and give Republicans enough votes to block the health care bill. No Republican has won a U.S. Senate race in Massachusetts since 1972, but pre-election polls are worrying Democrats. Yesterday, a noon poll indicated that Republican Scott Brown has a 7-point edge over Democrat Martha Coakley. We'll have the latest on the results tonight.
The White House is preparing to ask House Democrats to approve the Senate version of the health care reform bill, in case Republicans win the Massachusetts special election. If the House approves the Senate bill, it would go directly to the President to sign.
Speaking of the President - today marks his first full-year in office. He's set to deliver his State of the Union address next week and we'll be looking back at what he's done over the past year and what we can expect in the future. AC360° Correspondent Tom Foreman has been writing a letter to President Obama EVERY day since his inauguration. Take a look at them here...
What else are you following? Let us know and see you at 10 p.m. ET.