Reporter's Note: If I were President, I'm not so sure I would have time for a New Year's resolution, but as a regular citizen, I often contemplate ways in which I might improve. For example, I could write two letters to the White House each day…although I'm not sure that would be an improvement. While I ponder that, I'll continue with my vacation plan of avoiding political talk for a while and sharing tales of holidays past.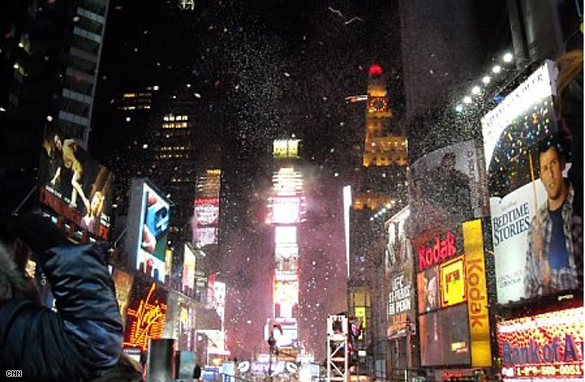 Tom Foreman | BIO
AC360° Correspondent
Dear Mr. President,
New Year's Eve has never been a particularly grand holiday for me. I always enjoy seeing the work of the past month roll out in my special show All the Best, All the Worst, which btw, is airing tonight at 8 eastern and then again at 10. Hope you get to see it. So you see I have reason to like the holiday well enough, but it always seems somehow artificial for people to organize big parties, and dance, and drink, and blow on paper horns just because a digit on the calendar is changing. We don't decorate and break out the bands when one month changes to the next; or even for the changes of seasons, which are more noteworthy in my book. Although, arguably, I guess we could say that some pretty major celebrations had their ancient origins in such matters; such as Christmas and the winter solstice.
When I was a child, living in small towns where precious little that was legal happened at the midnight hour, I used to sit up after my family had gone to bed on New Year's Eve to watch the festivities on TV and wonder about who all these people were who reveled through the night. My favorites were always the folks who joined in to celebrate with Guy Lombardo and his Royal Canadians. I can't recall which network carried his orchestra, but he'd come on the air perhaps sixty minutes before the witching hour and fill the room with classic jazz and swing tunes.
I would see him on either a black and white TV, or a color one with such bad reception it may as well have been black and white, which took a little edge off of the celebration, but still it was a window on an astonishing world where people sipped martinis, wore funny hats, and swayed back and forth to the melodies. At midnight, of course, Guy and the band would crank into the ever-puzzling Auld Lang Syne. If people in the big city were never quite sure what to make of that number, you can guess how strange it sounded as it filled a family room with shag carpeting in a simple house on the Illinois plains, with no one but a junior high school boy listening in the wavering light, while the bitter winds of winter whipped outside.
In the morning, my father would usually smile and ask, "How was Guy Lombardo?" "Still Canadian," I'd reply. Or something like that. The assessment was neither an insult nor an acclamation, but like the holiday itself, just kind of "there."
I've had plenty of interesting New Year's Eves since. I took part in a fancy fundraiser in New Orleans one year. I spent another watching a building blow up in Las Vegas, toasting the minute with my TV crew and a bottle of champagne on the Strip. At the millennium, my wife and daughters (who were very young at the time) danced the night away at a friend's party, then went home and cooked pancakes in the sunrise before finally falling asleep.
But just like those old TV signals, those late nights with Guy flicker at the edges of my memories each year as the final hours count down.
Hope all is well and your celebration is lovely, however you mark this passing of time.
Regards,
Tom
Follow Tom on Twitter @tomforemancnn.