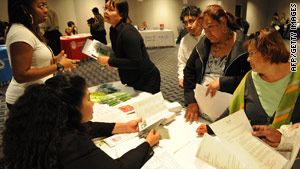 Job-seekers attend a job fair in Los Angeles, California, in early December.
Andrew Torgan
CNN Financial News Producer
Bad news on the housing front: home price gains of the past few months flattened out in October, compared to the month before.
The S&P/Case Shiller Home Price Index covering 20 of the largest metropolitan areas in the nation was unchanged in October, after four consecutive months of gains. The index is also down 7.3% from a year ago.
Analysts had been expecting a slight month-over-month increase in October and a year-over-year loss of 7.1%.
An executive at Standard & Poor's says today's numbers are likely to spark worries that home prices are about to take a second dip.
Separately, a key measure of consumer confidence rose for a second straight month in December, with the outlook for the next few months hitting a 2-year high.
The Conference Board, a New York-based research group, said its Consumer Confidence Index rose to 52.9 in December from an upwardly revised 50.6 in November.
The figure, which is based on a survey of 5,000 U.S. households, is closely watched because consumer spending makes up two-thirds of the nation's economic activity. Still, the overall index remains at historically low levels and is lower than it was in August.
Job hunters may get a reprieve in the New Year.
A new study found that 20% of employers plan to increase their number of full-time, permanent employees in 2010. That's up from 14% in 2009, according to CareerBuilder's 2010 Job Forecast.
Hiring is expected to increase in information technology, manufacturing, financial services, professional and business services and sales in the coming year, CareerBuilder said.
According a recent tally, 7.2 million jobs have been lost since the start of the recession and 15.4 million Americans are now unemployed and seeking work.
And farewell and good riddance to 2009, a year in which 85% of big companies did away with across-the-board annual merit raises.
The year ahead looks slightly brighter, however.
For one thing, more than half of companies that froze salaries in 2009 are planning a thaw over the next few months, according to a poll by compensation consultants Watson Wyatt. Meanwhile, 35% of employers that had reduced or cut 401(k) matching contributions expect to restore them in 2010 - with 70% of them reinstating the matches at their original levels.
So who is in the best position now to get a raise? The short answer: People whose skills are in demand because they serve a particular strategic purpose.
Finally, did you get a gift card from Wal-Mart, Best Buy or American Express this holiday season?
Use it now, consumer advocates say. That's the best way to avoid potential fees and other pitfalls that can suck up the value of consumer gift cards - at least until the Federal Reserve imposes limitations on some of the fees next year.
The Fed is currently crafting new rules aimed at limiting fees in the first year, restricting fees to once a month after a year and preventing gift cards from expiring before five years is up.
The new rules are part of a larger package Congress passed earlier this year cracking down on credit card fees. However, the new gift card rules are still being drawn and won't take effect until mid August.
Some $87 billion will be spent in gift card purchases during the 2009 holiday season.
Follow the money… on Twitter: @AndrewTorganCNN