Reporter's Note: President Obama apparently wrote a letter to North Korean leader Kim Jong Il. Maybe now he'll invite him over to watch football too, or perhaps for a game of badminton on the South Lawn. My daily letter to the White House comes pre-steamed.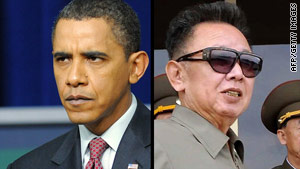 President Obama, left, sent a personal letter to North Korean leader Kim Jong Il, a U.S. official says.
Tom Foreman | BIO
AC360° Correspondent
Dear Mr. President,
What? You wrote a letter to North Korea's Kim Jong Il? Seriously? As you know, I try to be a patient man, and I don't ask for much. Just a note when you can, maybe a call now and then. I always make allowances for your busy schedule, and assume the best when I don't hear from you, which so far has been…uh…forever. So this, as they say in Asia, takes the rice cake!
Let's got through a list of reasons why I deserved a letter more than the disagreeable Mr. Kim.
1) I have never, nor do I intend in the future, to lob missiles over Japan. It's just not the kind of thing I would do and any of my friends will tell you so. Even if I had a brace of intercontinental missiles to heave into the sky, I would most likely save them for a special occasion like Fourth of July or Bastille Day and they would be purely for fun. Like sparklers or a corn maze.
2) As far as I can tell, I've never been involved in letting my people starve. My family and I once got caught on the Pennsylvania Turnpike very late and it took us much longer than expected to find a place for dinner, and even then it was a sort of dingy diner-joint, but that's about as close as I've come to that particular crime against humanity.
3) I didn't get my job just because Daddy had it first. I earned it.
4) Look all over my backyard all you want. Send in the U.N. inspectors. You will not find a single nuclear facility. I even keep the water heater turned down to a safe and environmentally-friendly level.
5) I have never captured any American journalists who strayed too close to my border. To the contrary, I have been trapped at long, tedious dinners by large groups of journalists before, and yet I have never taken retribution. (I must say, however, I once made a dazzling escape. I said I had to get change to tip the coat check guy and I ran for it. Ha!)
6) I'll write back. One of the first rules of correspondence I learned as a child is, if you want to get mail, you have to send mail. And your response to my missives to the contrary (ahem!) I have generally found that to be true. Not to be mean about it, but frankly don't expect any sympathy from me when you don't hear anything back from your pen pal in North Korea. "Barack? What are you doing sitting here in the dark?" "Oh, I don't know, Michelle. It's been three weeks and I just expected something. At least a postcard…"
7) You can always safely and comfortably drive around my house because I never stage massive parades of soldiers just to show how important I am.
As you can tell, I am disappointed. I hope your new little friend can take time out of his busy schedule of repressing his people to write back, but I just want to suggest that attempts to cozy up to a bully often go badly. They make your real friends feel neglected, and they reward the bully for being one.
I hate to say it, but don't call today even if you feel like it. Maybe I should start writing to someone else who might appreciate it more. Biden seems to have some time on his hands. And Joe Lieberman seems pretty lonely lately.
Regards,
Tom
Follow Tom on Twitter @tomforemancnn.