Reporter's Note: President Obama is jetting around the world, and I'm moving a bit too; working in New York for the week, yet still sending my daily missive to the White House in D.C.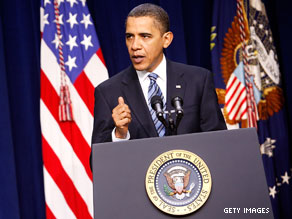 Tom Foreman | BIO
AC360° Correspondent
Dear Mr. President,
A number of my friends from New Orleans went to high school together, and had French class together, and learned the phrase "mon frère" together, and as high school boys are prone to do, found it funny. For them, it was not "my brother," but rather a generic expression of extremism. As in, "That tackle hurt like mon frère!" or "That chicken is better than mon frère." Anyway, when I became their friend I picked it up, so you'll understand when I say it was raining like mon frère as I walked to the office this morning.
I tell you all this because we talk so seldom (like never!) that I want to keep you apprised of some of the finer points of my personality, just in case you're feeling left out. I'm working in New York this week on my year-end special, 360's All the Best, All the Worst of 2009. I do this show every year and it seems to have a huge following. Don't know if you've ever seen it, but you are featured pretty prominently this year, so you might want to have someone back at the White House Tivo it if you're on the road when it airs around Christmas and New Year's.
In addition to that work, I've been filing a fair number of stories about this whole issue of global climate change. And let me tell you, from a reporter's perspective, it's a hard story to get people into. "Why?" you ask, in your most presidential tone, "It's an important issue."
Well, there are several reasons. First, it's slow. Even if we took on faith some of the direst warnings of coming floods, fire, famine, and pestilence; we're not talking about next Wednesday. We're talking about the future, and when we jump into that wrestling ring there are a lot of issues fighting for attention; population growth, infrastructure, the deficit; all of which may present a more immediate threat to life as we know it.
Second, it's got a lot of science in it. You've said yourself; we're not exactly a bunch of science whiz kids in this nation, so you can understand why a lot of us start glazing over when the temperature charts come out.
And third, for all of the science, there are still a lot of maybes. Maybe we can change what we do and make a difference, but we're not sure how much; maybe if we don't bad things will happen, but we're not sure exactly how bad or when; maybe, maybe, maybe. I'm not trying to say the concerns are illegitimate, I'm just saying it's hard for people to get their heads around complex cause-and-effect equations, let alone squishy ones.
Anyway, good luck with your work. Did you take a sweater? Global warming or not, we are in the cold and flu season. Call if you can, or as always when you travel, a postcard would be nice.
Regards,
Tom
Follow Tom on Twitter @tomforemancnn.