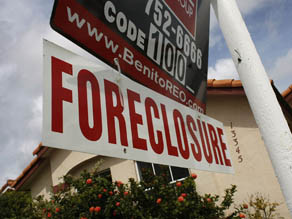 Andrew Torgan
CNN Financial News Producer
Despite recent, encouraging signs of life in the battered housing market, here's a sobering reminder of just how much damage has been done: American homeowners will have lost nearly $500 billion in home value by year's end.
Still, that's a huge improvement over 2008, when values fell by a mind-boggling $3.6 trillion, according to a report released today by real estate Website Zillow.com.
The Los Angeles market suffered the largest total loss in home value at $60.8 billion. Metro Chicago values fell $49.6 billion and New York dropped $49 billion.
But some housing markets actually recorded gains for the year. In the Boston metropolitan area, home values increased by an average of 1.5%, lifting total market value by $23.3 billion there. Nearby Providence, RI, gained $12.4 billion; and Denver increased $10.7 billion.
Treasury Secretary Tim Geithner says the controversial $700 billion federal bailout program will be extended through Oct. 3, 2010.
The Troubled Asset Relief Program, or TARP, will be scaled back and spending limited to newer programs aimed at stopping foreclosures, making loans to small businesses and propping up the credit markets to make loans more available.
"History suggests that exiting prematurely from policies designed to contain a financial crisis can significantly prolong an economic downturn," Geithner wrote in a letter to congressional leaders. "We must not waver in our resolve to ensure the stability of the financial system and to support the nascent recovery that the administration and the Congress have worked so hard to achieve."
Under the TARP law, the bailout program would have expired at the end of December if Geithner had not decided to extend it.
Geithner said that in the end he does not expect to spend more than $550 billion and that $175 billion will be repaid by the end of 2010.
That was followed by word that the billions of dollars in bailout money received by Bank of America over the past year is now officially back in government hands.
Just a week after announcing plans to repay $45 billion in taxpayer bailout money, the nation's largest lender says it has cut a check to the government for the full amount.
As a result of the announcement, however, Bank of America will no longer be beholden to government demands that have been imposed on the company over the past year, including caps on pay for its top executives.
Along those lines, President Obama will meet with the chief executives of several big banks next week, in an effort to help spur greater lending to consumers and small businesses, two senior White House officials tell CNN.
The president is also expected to discuss the sweeping financial regulatory reform package that the administration is currently trying to push through Congress during Monday's scheduled meeting.
Officials said that the list of attendees has not yet been finalized, but that it is likely that executives from some of the nation's biggest banks will be present.
The extent to which banks have been willing to lend has remained a focal point for Washington, after the U.S. government pumped billions into the banking sector over the past year in an effort to get the economy back on track.
Consumers and small businesses in particular contend that loans are still tough to come by. But many banks maintain that they are lending, even as the appetite for new loans has dropped off.
Finally, what was arguably one of the most-disastrous corporate marriages of all time draws to a close today as AOL and Time Warner have officially called it quits.
The two announced their intention to merge back in 2000, creating what one analyst referred to as "an unprecedented powerhouse" with dominating positions in the music, publishing, news, entertainment, cable and Internet industries.
At the time, AOL was an Internet giant was worth more than $100 billion and a stock price topping $100 per share.
Today, the company is worth just a little more than $3 billion and its shares will start trading in the $25 range Thursday morning.
Follow the money… on Twitter: @AndrewTorganCNN