Ready for today's Beat 360°? Everyday we post a picture – and you provide the caption and our staff will join in too. Tune in tonight at 10pm to see if you are our favorite! Here is the 'Beat 360°' pic:
Senator Max Baucus speaks to reporters after a meeting with President Barack Obama and other Senate Democrats on Capitol Hill December 6, 2009 in Washington, DC.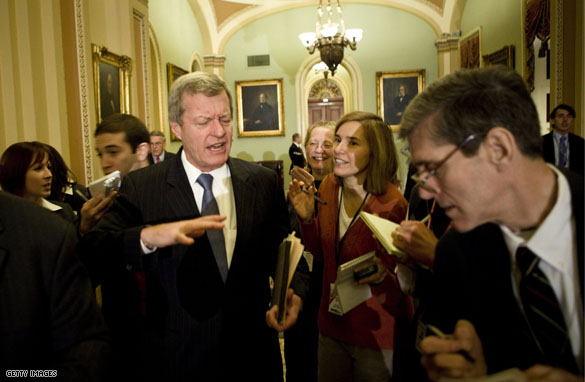 Have fun with it. We're looking forward to your captions! Make sure to include your name, city, state (or country) so we can post your comment.
Staff:
Kirk McDonald
"No, young lady, I will not nominate you to be a US attorney if you date me."
Viewer:
Sean, Boston, MA
"No, no, no, I told you I'll only speak to Anderson, he's got gray hair, about this tall..."
_________________________________________________________________________________