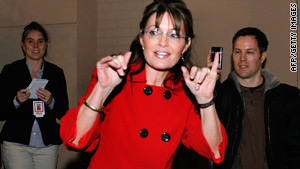 LZ Granderson
Special to CNN
Sarah Palin's book tour came through my city the other day and I scooted over to the mall, looking to get an autograph and a handshake.
Unfortunately, I got neither.
I wasn't in line at 5 a.m., so I wasn't one of the 1,000 or so people who obtained the special wristband necessary to gain access to the rogue one.
However, I did get a lot of strange looks from the line, which I guess was to be expected. After all, I'm a black man with dreadlocks and, judging by the racial makeup of most of the cities Palin has scheduled for her tour, it doesn't seem I'm her target audience.
I'm not suggesting that she should avoid going to places like Noblesville, Indiana, or Washington, Pennsylvania, both with overwhelmingly white populations. It just seems that in going to few diversely populated cities, she's purposefully steering clear of minorities. I mean, what author with a $5 million book deal avoids promoting books in large cities?