_________________________________________________________________________________
Michael Schulder
CNN Senior Executive Producer
As I continue my countdown to age 50 (49 days away) and dig into the apparent myth that ages 18 through 49 is the sweet spot audience, my gut, which tells me the 18-49 premise is absurd, is reinforced by today's Exhibit A. It's my mother-in-law's secret arm signal.
My mother-in-law, let's call her "Marie" (because that's her name) will not reveal her age for this story. Let's just say she's old enough to be …. my mother-in-law. In other words, she's out of "the demo." So programmers and advertisers who worship 18-49 may be surprised to learn about her secret arm signal. I had CNN graphic artist Jason Proudler try to capture the image. Some might think it illustrates a person covering her mouth to avoid spreading H1N1. That's what some young, out of touch, advertisers and programmers might have guessed. But they guessed wrong.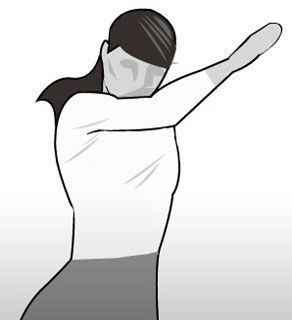 The Signal's Hidden Meaning
This story began a few weeks ago, when my mother-in-law and I were having a nice conversation in my kitchen. I told her I had to go play a tennis match. That's when she gave me the signal.
The signal is something she learned by watching my children take tennis lessons with the highly esteemed tennis coach "H" Wetzel.
H spends 10 to 12 hours a day on the court. 10 to 12 hours on his feet. You'd need a stalking paparazzi to catch him sitting down. And he says he plans to keep up this grueling schedule for the next 8 to 10 years. After he reaches "official" retirement age he tells me he'll keep on teaching some because he loves his profession.
H stays hydrated by drinking at least 20 ounces of water or sports drink every hour. He regularly updates his racquets to take advantage of the latest technology. And so do his students, who range in age from 3 to about 83. THERE'S YOUR DEMO! 8 TO 83! (My apologies for leaving out the post-83 players. I know you're there.)
H even uses computers like the rest of the "almost out of the demo" crowd. He edits his own videos on Apple's Final Cut Pro for fun. He travels with portable hard drives and thumb drives. The man's got drive.
H has been teaching since he was 18. And, just like me, and many of you, he's about to be kicked out of the demo. On December 5th, he's turning a thoroughly modern 50.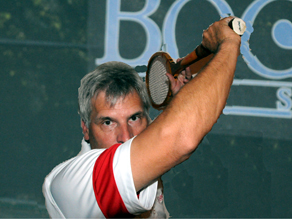 Coach H demonstrates forehand finish with modern equipment.
Back to My Mother-in-Law
So my mother-in-law, perhaps driven by her surviving 18-49 competitive streak, decided to take a lesson with H herself this past summer – to learn what her grandchildren were excelling at: the 2009 forehand follow-through.
When I was a kid first learning tennis, I was always taught to follow through with the racket pointing towards the opposing fence. The emphasis those days, says H, was on linear momentum, a simple weight shift onto your front leg. But today's game, says H, which you can witness in any tournament, is about angular momentum – the power that comes more from the torque of twisting your body.
So in 2009, on the forehand, you're taught to follow through over your shoulder, which leaves your elbow pointed outward in front of your face and the racquet head over your shoulder toward the back fence. It increases the topspin and helps drive that angular momentum. My mother-in-law "Marie" knows that at her age. Do the young ad men and women know it? Do the programmers? Maybe.
But would they EXPECT someone so far out of the demo to know it. Would they expect someone out of their dream demo to have such an interest in the finer points of tennis. In some ways, I don't even care.
What I care about is this. I went on to my tennis match with Marie's Secret Arm Signal emblazoned in my mind. And while I did not win the match, I made fewer unforced forehand errors than I ever can recall making. It was all because of an about-to-turn 50 coach being channeled through Marie's secret arm signal. And you're telling me SHE'S not in the demo?!
I just hope, those of you who believe the prime demo ends at 49 don't bump into me on the tennis court after my 50th birthday. Most of all, I hope, for your sake, that you don't bump into Marie.
__________________________________________________________________________
Tomorrow on 50on50:
I interview UnderArmour's Senior VP of Marketing about my UnderArmour shopping spree. Am I UnderArmour's dream demo – or a brand killer? Tomorrow at 50on50.