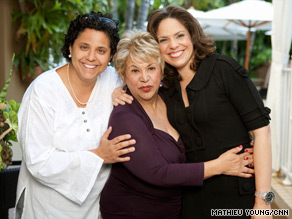 O'Brien and CNN's Rose Arce, left, with Latina actor Lupe Ontiveros, center, in Los Angeles, California.
Ruben Navarrette Jr.
CNN
Have you ever seen 47 million people hold their breath and hope for the best?
Take it from this Latino in America, when many of my compadres heard that CNN was putting together a documentary on being "Latino in America," that's pretty much what happened.
For those of us in the Latino community who worry that those of us in the media are missing the best and most nuanced stories about America's largest minority because we're too busy harping on stereotypes and accentuating the negative - "I'll take an order of high school dropouts, with a side of gangbangers and mix in some gardeners and housekeepers" - there was a concern that CNN would blow the assignment.