____________________________________________________________________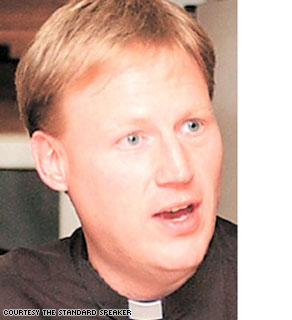 Father Robert M. Timchak was charged on Monday with 17 counts of sexual child abuse for allegedly having files of naked, underage boys on his computer.
Gabriel Falcon
AC360° Writer
A Roman Catholic priest in Pennsylvania has been charged with more than a dozen counts connected to child pornography, authorities said. "I would believe that our community would be distressed upon hearing these allegations," Pike County District Attorney Raymond J. Tonkin told CNN.
Tonkin said Father Robert M. Timchak surrendered on Monday and is now free on bail. Timchak, who was ordained a priest for the Diocese of Scranton in 1992, was charged with 17 counts of sexual abuse of children, one count of criminal use of a communications facility, and one count of tampering with or fabricating evidence.
"There are no allegations at this time related to the actual touching of any children," Tonkin said. "The allegations at this time are related to the possession of child pornography on his computer."
The case against Timchak began, authorities said, with an anonymous letter sent to the Diocese of Scranton last December.
The affidavit of probable cause alleges "the letter contained explicit photographs and comments of young males, possibly children, that reportedly had been recovered during a search of the email address 'booker1441.'"
The Diocese gave the letter to the District Attorney's Office. According to the affidavit, in a police interview in April, Timchak acknowledged that he had an email account under booker1441.
After seizing his desktop and laptop computers, investigators said they found "graphic files containing young males in sexually explicit poses and/or acts. The graphic files contained nude or partially clothed males exposing their genitals. The males appeared to be under the age of  18."
In a statement, the Diocese of Scranton said it "is saddened by the situation regarding Father Robert M. Timchak. These charges are distressing and would be very unfortunate if proven true."
Timchak was pastor and assistant pastor at several parishes in recent years. He has also served as the director of religion formation at two Catholic high schools.
He has been on a leave of absence from the Dioceses since April.
Follow Gabe on Twitter @cnnfalcon.
For more crime coverage go to cnn.com/crime.