____________________________________________________________________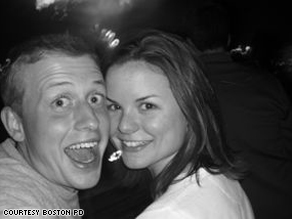 William Hurley, 24, went missing on Thursday, Oct. 8.
Gabriel Falcon
AC360° Writer
The search for a missing Boston man has taken a tragic turn. Authorities said a body recovered from the Charles River early Wednesday morning has been positively identified as that of William Hurley, who disappeared after attending a Boston Bruins game last week.
The body was found in the water behind the Nashua Street Jail at approximately 2:30 a.m., police said. The facts and circumstances of the death of the 24-year-old man are not clear.
Investigators are awaiting the results of an autopsy by the medical examiner to determine the exact cause of death. Hurley's family has been notified.
Hurley vanished last Thursday night. His fiancé, Claire Mahoney, said he told her his cell phone battery was running out of power.
"I was just trying to get to him to bring him home before his cell phone died," Mahoney said. "Then he asked someone passing by on the street what the address is, the person told him it was '99 Nashua Street.' I said 'I'll be right there,' and within a minute or two I was right at that location, but he was nowhere to be found."
Hurley, who was employed as a greens keeper at the Weston Country Club, did not report for work the following day, authorities said.
"There is no indication of foul play at this time," said Boston police spokesman Joe Zanoli to CNN. "However, that doesn't necessarily mean it hasn't happen. We just don't know. At this point of the investigation, it appears he just vanished. Whether that is on his own accord or not has yet to be determined."
Mahoney, who first met Hurley when he was in the Navy, said it is extremely unlike him to not contact her or his mother.
"He's a happy person, just an easy going guy and he wouldn't do anything like this," she said. "I love him with all my heart."
Follow Gabe on Twitter @cnnfalcon.
For more crime coverage go to cnn.com/crime.