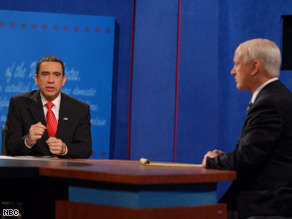 Fred Armisen plays Barack Obama on SNL.
Ed Rollins
CNN Senior Political Contributor
Since its debut on October 11, 1975, "Saturday Night Live" has spoofed, ridiculed and hammered presidents and other political figures without regard to political affiliation or any other sensitivities.
The perfect parroting of Sarah Palin after her vice president nomination, by the immensely talented Tina Fey, started the downward spiraling of the governor. People started looking at her in a different light, and she was judged as a less serious candidate.
Saturday's skit portraying President Obama as a man who made a lot of promises and hasn't been able to fulfill many - if any - has been analyzed over and over with a constant rerun of the "SNL" clip.
In the comedy skit, the president is asked about unrealized campaign promises, including closing Gitmo, combating global warming, allowing openly gay people to serve in the military, withdrawing from Iraq, improving the status of the fight in Afghanistan, reforming health care and several others. On screen the response on a check list was: that each item was "not done."